Prepping for Spring
Here in the northwest, the weather is beginning to truly resemble what we have all been longing for – warmer temperatures, calm days and perpetual sunshine coaxing us to come outside and enjoy.  With this much appreciated change, is the need to change what is worn. 
So with the help of Instyle, I've gathered some necessary items that will no doubt touch up your wardrobe and have you prepared for almost any occasion.
A Fresh Scent
If you are running low on your favorite fragrance, as I am right now, why not think about a new fresh, and as Jennifer Aniston states herself "sexy and clean" and "floral, but not too flowery" scent? Her new perfume, Lolavie, will be released in June, however, in Harrods in England first (a release in the states hasn't been announced yet). As far as where the name originated from, "It's a long story and honestly it's too personal to tell," she said. "But it has special significance." And the mystery will continue evidentially. In the meantime, if you're in the mood for a change, why not stray a bit from a classic, but not too far, and try Chanel's No 19?
Pick Up A Trench
Whether you are prone to more neutral tones or would like a pop of color, make sure you have a trench coat at the ready.  Be rest assured, with one in your closet you will always be able to get from point A to point B in style.
Nautical Striped Top
Navy and white stripe tops are something so timeless and classic, and can be adapted and used in a variety of styles for the top you desire.  A look typically used for casual dress, but nonetheless, a very finished look.
A Bright Blazer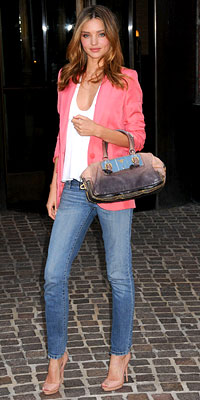 It is spring after all, so add some color to your neutral wardrobe, by adding a splash of color in the form of a blazer. Miranda Kerr demonstrates it quite well I think.
A Khaki Dress
Elie Tahari's ad campaign demonstrates that a simple khaki dress can be worn for a rather dressed up affair, but it's nice to know it can be paired with flats for a casual stroll through a farmer's market as well.
Sequins!
I am a huge fan of sequins, as I mentioned in a previous post, so this will be an easy sell for me.  However, don't be fooled into thinking sequins are only for the cocktail hour.  Pair them with your professional or day to day wardrobe as well, and while you will most certainly get noticed, have no doubt that it will be for all of the right reasons.
Accessories
-Boho Clutch
A simple and quick way to spruce up your wardrobe is to change your accessories.  In these two instances, carry a different clutch or bag.  Above, Designer Genevieve Jones' boho clutch and below, Louis Vuitton's doctor bag. 
-Doctor's Bag
Sunglasses
Last on today's Saturday Style list, but oh, so very important, is the multi-purpose accessory - always a fantastic purchase.  Since we all will have the opportunity to bask in the sun more often now, make sure you're not only protecting your baby blues (or browns or greens or hazels) but are making a classic statement with the choice of your sunglasses.  I am currently craving a pair of Michael Kors. Kate Beckinsale demonstrates how lovely Michael Kors - 586 Corsicas can look.
Images: (1) Source (2) Source (4) Celebrity Fashion Tips (5) Isaac Likes (6) Instyle (7) Pichaus (8) J.Crew (9) – polyvore (10) Fashion Fame (11) Source
Labels: 586 Corsica sunglasses, Chanel, Chanel Couture, Chanel No 19 perfume, doctor's bags, Elie Tahari, Genevieve Jones boho clutch, J.Crew, Jennifer Aniston, Jennifer Aniston perfume, Kate Beckinsale, khaki dress, Lolavie, Louis Vuitton, Michael Kors, sequin tops