Inspiration, Goodies, and Recipes – 1st Giveaway!
The last three months have flown by due in no small part to my time on my blog, twitter and continually observing and taking in the immense amount of inspiration that is in my everyday life.  It truly is amazing what goodness can be found once we chose to look for it.
With all of that being said, my 100th post has come and gone during this past week, and I wanted to take the opportunity to thank all of my readers.  Whether you are someone who regularly comments or someone who chooses to keep their thoughts to themselves, I appreciate your time.  We all have so many options and choices in this life and for you to choose to give a few minutes to Simply Luxurious is a treat.  And so a treat for you!
During my jaunt to Portland, I came upon a lovely shop that deals primarily in elegant and unique invitations – whether they be for something as simple as a dinner or a wine tasting party, or for something as grand as a wedding or a graduation.  Uptowne Papers, located on 9th NW 23rd Place, made it quite easy to decide on the perfect invite for my upcoming Spring Barrel Tasting Party (more about the invites on Wednesday), but what Lori Pellicano (the owner) also shared with me was a new treat that I must share with you.  Brandini Toffee.
If you are even the slightest fan of almond roca, you will be blown away by the luscious combination of dark chocolate, roasted almonds, butter and sugar.  Only four ingredients! Can you believe that?  The story of how two freshmen in high school began this tasty business is even more impressive.  Learn more about the Brandini story by clicking here.
So with all of that said, Lori was kind enough to share with us one tin of Brandini Bites (did I mention Martha Stewart gave it her approval, as well as Oprah?).  Thank you Lori for your generous hospitality, it was a pleasure meeting you, and I look forward to returning for my next gathering. 
But that's not all!  Also included in the giveaway is something to do with food and entertaining.  I have mentioned a handful of her recipes in various posts (Delizioso, Dinner in Fifteen, A Delicious Evening In). Ina Garten, also known as the Barefoot Contessa, has a cookbook that I think you might want to have in your kitchen (if you don't already) at the ready for an evening in which the goal is to remain simple, yet create something that is absolutely delicious.  The most recent cookbook is (as you see below) Back to Basics, and it will also be included in the giveaway.
This is one of my most used cookbooks.  Not only does it include the majority of the recipes you may have seen on Food Network, but tips on entertaining, what type of flower arrangements to include, the best types of appetizers to serve and much more.  She really does stick to her mantra – back to basics.  The meals are simple, yet delicious.
We're not done yet! Since Simply Luxurious focuses on a handful of interests – not only food and entertaining, I had to include something that also deals with fashion, style, and a bit about home decor.  As you may recall, I've mentioned Rachel Zoe too many times in the last few months.  Due to this fact, I thought I'd give away her book Style A to Zoe.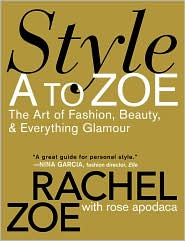 All in all, I can say you will find wonderful images of the celebrities she has styled, as well as events she has attended.  The idea for my post Weekend Essential grew out of Rachel's mention that we should all have a weekend uniform of sorts.  More importantly though, is the wealth of information she shares on looking stylish and fabulous in your own skin.  If you haven't read this book or don't have one of your own, I think you would love it. It is a wonderful resource that I find myself going back to again and again. Click here for a fantastic review found on Purse Blog.
Phew!  To recap, one lucky reader will receive – three lovely items: a tin of Brandini Toffee, Barefoot Contessa's – Back to Basics cookbook, and Rachel Zoe's book Style A to Zoe.
To enter:
1. Leave a comment on this post and please make sure to include your email address, so I can contact you if you win. (If you don't want to leave a comment, you may email me at info@thesimplyluxuriouslife.com to be entered as well)
2. To receive an additional entry, tweet about the giveaway and let me know you tweeted!
Giveaway ends on Saturday, April 3rd at Noon PDT.
That's it!  I look forward to hearing from you and good luck!
The winner will be drawn at random and will be announced on Sunday's Cups of Tea which will post April 4th.
Thank you again, and I hope to see you back her at The Simply Luxurious Life soon!
Labels: 100th post, Back to Basics, Barefoot Contessa, Brandini Toffee, giveaway, Portland, Rachel Zoe, simply luxurious, Style A to Zoe, twitter, Uptowne Papers