Cups of Tea (3/28-4/3)
For those of you celebrating Easter, Happy Easter, and for those who are simply enjoying their Sunday – here's to a beautiful day which is hopefully filled with leisure, pleasure and time.
This week's favorites evoke two themes involving French wisdom and the beautiful bounty of that spring provides.  Enjoy picking and choosing your way through all of them. 
As promised, the winner of the delicious Brandini Bites, Barefoot Contessa's Back to Basics cookbook and Rachel Zoe's Style A to Zoe guide is Caitlin of Pour L'Amour de Fashion.  Congratulations!  And to everyone who entered, thank you for stopping by, and be assured, another giveaway will be coming up soon.
Slim Paley's blog is one I thoroughly enjoy due to her honest voice and fantastic eye for beauty, and with lavender being my color of choice lately, I immediately was drawn to this post.  A collection of images that display lavender in their own way, as well as lovely photos of Spanish & French lavender from her very own garden. 
Mixing it up a bit when it comes to salad is something I am always trying to do, and when I came across Lauren of  Healthy Delicious' beautiful Herb Salad with Lemon Poppy Vinaigrette and Warm Goat Cheese Croutons I knew I had to save the recipe.  Warm goat cheese croutons?  I'm sold!  Click on the heading above or the image below to get your hands on the recipe.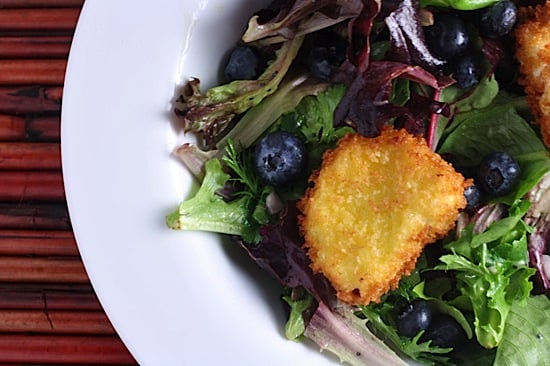 How do you approach the concept of aging?  Are you comfortable with leaving your twenties behind, or do you ache to relive them?  Marjorie of My Inner French Girl shares a thought provoking, beautifully written post, that shares the beauty of each added year to your life.  Please have a look.
As soon as I came across Janelle's recipe for her Tuscan Chocolate Cake on Talk of Tomatoes, I was craving chocolate.  Her recipe involves only a few ingredients, but is most certain to delight.  Click on the image below or the header above to pick up the recipe for yourself.  
5. Have A Voice 
Paloma of La Dolce Vita began the week by sharing a very frank quote by the timeless Miss Coco Chanel herself.  The photo she chose to accompany it speaks volumes by itself.  With that said, how are we ever to be heard if we never use the voice we are given?
Labels: chocolate cake, coco chanel, giveaway winner, Healthy Delicious, La Dolce Vita, lavender, My Inner French Girl, salads, Slim Paley, Talk of Tomatoes