All Things Jenna Lyons
Jenna Lyons' name has been the catch phrase of the day as of late, and while I've been a fan of
J.Crew
for quite some time, I have never been more of a cheerleader for the company since their creativity and style has been taken up more than just a few notches with the imagination of Executive Fashion Director Jenna Lyons.
I can still easily recall ordering my casual attire in college from
J.Crew
(mind you, this was ten years ago), and now, fast-forward to present day, my closet is dripping with the revamped fashions - many of their feminine silk camisoles, extra long favorite merino cardigans, dresses, and belts. Needless to say, I am thrilled with the direction of
J.Crew
and am even more impressed with Jenna Lyons each time I learn something else about her.
Full disclosure: the simple fact that a woman who gracefully and fashionably at 6'0" wears heels day in and day out and looks as stunning as she does, had me from the first few pages of Domino. After all, I too am a bit on the tall side (5'10", some argue 5'11"), so it is with admiration and adoration that I write this post.
I have tried to bundle photos of Jenna's effortless style, along with her beautiful home and magazine covers that she has appeared upon. A tremendous thank you to
Habitually Chic
's post back in August who included images from Domino and
Livingetc
magazines as well as photos from
Levinson David Architects
. Click
here
for a direct link to Heather Clawson's post on
Habitually Chic
. She does a fantastic job of detailing the interior design choices regarding furniture, paint and photography angles. Also, I've included a handful of other posts that include interviews and even more photos.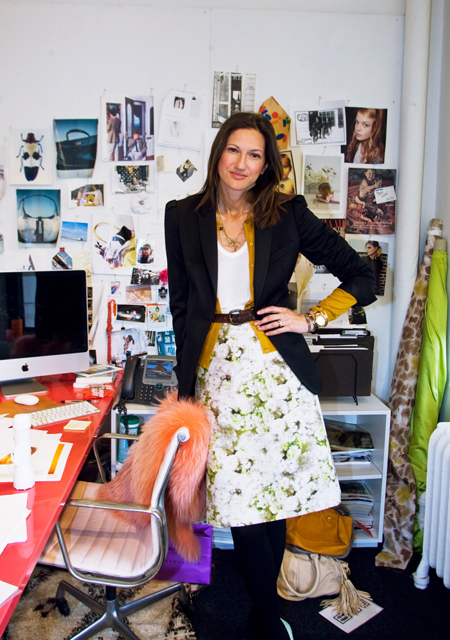 At her home in Brooklyn– a conversion of an entire extra bedroom to a closet – I could waste many hours dreaming and creating my own fashion show in a room such as this.
Early in her career.
On
Oprah
recently (April 21, 2010), Jenna shared a few of the fashion rules she lives by that everyone could benefit from following.
Make a statement with jewelry.
Balance feminine pieces with tomboy accents, like a military blazer.
Wear opposites. If you're wearing something tailored, sprinkle in some sequins.
Mix textures—pair tweed with silk, for example.
"I'm in heels 90 percent of the time- I wear them with sweatpants. Being tall is fun, and there's something nice about not only being tall but then making yourself appear even taller." from post on
J.Crew Aficionada
This particular setting is what grabbed my attention above all else in her home – so serene, the abundance of light and calming colors with the use of white and cream.
An overwhelming amount of images, but inspiring to know that by continuing to following one's passions and loves, dreams can become reality.
If you would like to learn a bit more about Jenna Lyons, below are a few articles I have collected:
*Article from
Fashionista in May 2008
*J.Crew Aholics post "
Read up on Jenna Lyons from J.Crew
"
*
Flashback: Jenna Lyons in 2006 via JCBelleMarie
*Yesterday, Jenna appeared on
Oprah
and generously allowed cameras to film
A Day in the Life of Jenna Lyons
. Have a look.
I fell in love with Jenna's choice of top for both her
video
on
Oprah
as well as her appearance on the show, and I couldn't have been happier when I found it was only $36 -
Vintage Bateau Top
- J.Crew. (shown above)
She also paired this top with a fantastic pair of gold sequin pants. Sounds insane, but if you had seen it (click on the
video
link above to see for yourself), you would have been impressed. The combination worked perfectly on her lanky frame. Thanks to a heads up from a
reader
, I learned that the gold sequin pants are only available in the NYC J.Crew bridal boutique and not online – so if you're interested, pack up and head to the Big Apple!
To my favorite day of the week – Thursday – may it be as lovely for you as it has been for me. Enjoy your day!
Labels: Domino, Habitually Chic, height, Huffington Post, J.Crew, Jenna Lyons on Oprah, Levinson David Architects, Livingetc, Oprah, tall, Vintage Bateau Top