More Vino, Please!
Recently a group of friends and myself continued our attempt at better acquainting our palates with the complexities of wine.   It is our annual tradition to go Barrel Tasting together during the month of December in Walla Walla, Washington, but this year we decided to take it up a notch by hosting blind wine tasting parties at each other's homes every month or so.  Our first gathering went smashingly, and you can learn more of the details by clicking here.Our second one just seemed to be that much better, but then again, we were enjoying our wine. 
So what exactly are the components of a successful blind wine tasting party?  Well, as I'm sure there are many different approaches depending on the people who are involved, I tried to make a list below of the elements that seemed to bring a sense of order, but also spontaneity that allowed everyone to relax, enjoy and savor the evening.  If you have any other suggestions, favorite experiences or ideas that you've enjoyed, I would love to hear. 
This time we decided to stick to one varietal which happened to be Cabernet Sauvignon for this particular go-round. Each guest was responsible for bringing a bottle of wine.  They were welcome to bring a high or low priced bottle, or two bottles if they desired to add variety to the tasting.

The host of the party (which rotates each month) prepares the main dish and the dessert, while the guests are each responsible for bringing one appetizer along with their wine.
Each of the bottles are placed in a nondescript bag, lettered or numbered and brought to the table where the tasting is to take place.  (So serious, I know.)

Yes, we are most certainly serious.  After all, our purpose is to become better educated and to recognize what it is we are tasting.  Now mind you, some take it more seriously than others, and as the night progresses, more become less serious. 
If you'd like to have a copy of the score card above, which is the version we have been using,  click on the following link - Wine Country Getaways.

Water and the appetizers are readily available on the tasting table to cleanse our palettes and prepare ourselves for the next wine to taste.

After all eight wines were tasted, we rank them according to our personal preference, as well as the group's average which always leads to interesting discussions and debates. 
Then the big reveal!  Starting from the least desired and moving upward, each wine is shown, and this time my top choice was Saviah Cellars'2007 Cabernet Sauvignon.  In my opinion, a deliciously savory, full bodied wine that seemed well-balanced.
Do I sound like a wine enthusiast yet?  Well, I'm getting there.  For goodness sakes, that's why we get together and enjoy ourselves.  I've always been of the mind, "Drink what you like.  Like what you drink."
Despite this maxim, I am truly enjoying the process of learning more about wines, tasting wines I might never would have or had the opportunity to, and am thankful for friends who enjoy this curiosity as well.
Oh, but the evening wasn't over yet.  The food!  The food!
Soon after the tasting, our appetites were ready for a meal of lamb, couscous and other delicious side dishes.  Topped off, of course, with dessert.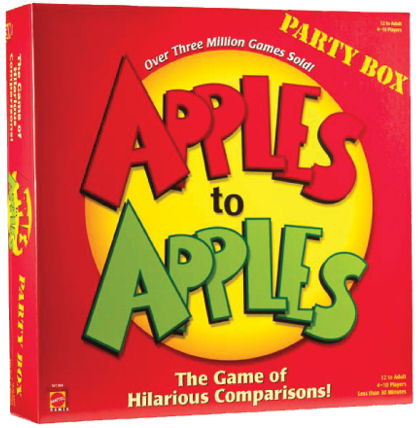 And for those who were still full of energy, the board game Apples to Apples was pulled out to play.  I am an absolute fan of this game because of its adaptability to be played with children or adults.  If you're ever in the need of conversation starters, this would be a perfect game to have at the ready.
What could be a more lovely combination than wonderful friends and laughter, light music in the background, savory food and bottles of wine to share?  On this particular evening, not too much.
To Brian and Rashelle, an enormous thank you for opening your home and sharing with us the delicious food and company.  Now the torch has been passed to me.  Oh, the possibilities.  Until next month!
Images: (1) Examiner (3) Douglas Green (8) 20 Minute Supper Club (9) Fair Play Games
Labels: Apples to Apples, blind wine tasting, Cabernet Sauvignon, Saviah Cellars, wine score cards