Casual Friday
It's funny how a certain type of clothing can be associated with a day of the week, whether we participate in the stereotype or not.   I often view Friday as the finish line before I can wear my favorite go-to baby blues. Regardless of how we incorporate jeans into our wardrobe, I would venture to guess that the majority of us know exactly how we want to look in them.  Am I right?
There are so many facets to the adorability factor of jeans, but the one I am particularly fond of is the trouser jean.  This style is something I find myself wearing to work more than I care to admit, but what I love about it is the versatility it allows.  Pair it with a gorgeous feminine blouse, chandelier earrings, and nude pumps and any lady is set to appear more than appropriate.  Maybe not for a business meeting, but most certainly for a day full of routine desk work.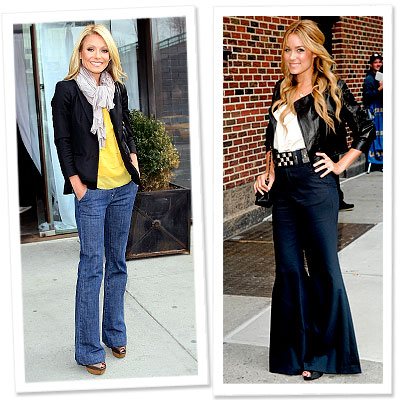 Kelly Ripa and Lauren Conrad demonstrate the perfect look one can achieve in a pair of trouser jeans.
Stella McCartney models one of the qualities I love most about trouser jeans, the elongation of the leg.  Her legs appear to go on for days, seriously!
Okay, okay, enough with work already . . . it is after all, Friday.  So if we're in the mood to play and want to look even better doing it, the often misunderstood skinny jean and the the trusty standby – bootcut jean are here to help us all enjoy the weekend a bit more.
No matter how many jeans I have in my closet, it seems I can never have too many, and currently I am on the look out for another pair of dark denim skinny jeans.  The truth that I am continually finding out about dark denim is that it is slimming, appears much more pulled together than a lighter wash and it goes with everything from t-shirts, sweaters to my uniform go-to cami and cardigan.   A few of the brands that I have found to work for me due to my long inseam are Rock & Republic, Notify, Citizens of Humanity and every once and awhile Banana Republic. If you know of any others that I should look into, I would love to hear.
Hopefully your weekend ahead is full of a few moments that require you to don your favorite pair of denim, as well as a good night out all dressed up.
Enjoy window shopping by taking a look at a few more ways to dress up (or down) the jeans that I know will always be in our closets. Cheers to all of my readers and thank you sincerely, for stopping by. You all are continually brightening my days with your wonderful thoughts and comments.
Audrina Patridge demonstrates how skinny jeans can be worn. 
If we had gams like Cameron Diaz, who wouldn't be wearing skinny jeans all day, every day?
Mariska Hargitay pulls off a very casual, yet finished look with denim.
Jessica Alba takes a stroll in what looks like a pair of very comfortable jeans.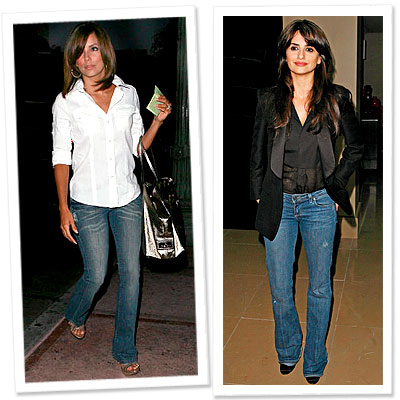 Bootcut jeans are wonderful for bringing balance to a woman's body and are one of my favorite choices when I want to slip on some heels, but don't want to wear a dress.
What would a discussion be without allowing Giselle to model what jeans are meant to do?  I just had to do it, please don't hate me.  I love this picture simply because the bootcut jeans are being worn with their namesake. 
Penelope Cruz's dark demin jeans are exactly what every woman should have in their closet.
A pair of jeans taking Jennifer Lopez out for a night on the town.  Looks fabulous!
One last example of a great bootcut jean and their ability to be worn during any season and look smashing.  The yellow and blue color combination is eye catching, isn't?
And to wrap up, boots worn over skinny jeans.  After all, we aren't officially in the spring season, so don't put those boots away just yet.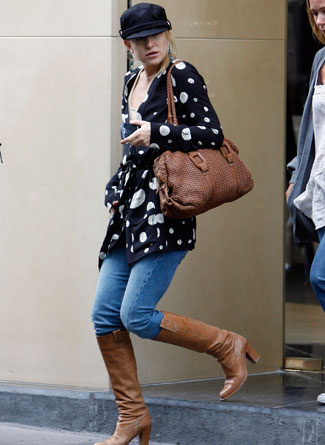 Images: (1) Instyle (2) The Frisky (3)Denim Blog (4) Denim Blog (5) Denim Hunt (6) Celebrity Style Guide (7) Instyle (9) Elle UK (10) The Jeans Blog (11) My True Style (12) Style Bakery (13) Denim Blog (14) Fashion Update
Labels: bootcut jeans, Citizens of Humanity, fashion, Friday, jeans, Notify jeans, Rock and Republic, skinny jeans, trouser jeans