Cups of Tea (5/2 – 5/8)
Sunday, and on top of that Mother's Day.  Two tea cups will be required for today's Cups of Tea.  One of my mother's and I's favorite things to do which allows us to slow down, catch up and soak in the sun, is to have tea in her sun room out in the country.  We started doing this a couple of years ago, and I still enjoy each time we step into the solarium with tea, a sweet treat and lots to share.  While these opportunities don't happen very often because of our proximity to each other, it makes the moments that we do find time all the more something to appreciate.
Today, if you are celebrating Mother's Day, I hope you have a very special day whether you are being celebrated or you are celebrating someone.  And if today is simply a Sunday, enjoy, soak it in and revel in what May has to offer. 
In this week's Cups of Tea you will find hopefully a bit more inspiration than usual, a delicious spring recipe, and beach inspired decor.  Take a deep breath and let go of your busy schedule for a moment, grab your favorite cup from the cupboard and settle in for a bit of good browsing.
At least once a week I stop by Leo Babauta's Zen Habits, and it is very rare for me not to find a post that I can't translate into my life somehow.  This week was no different.   Guest blogger Anastasiya Goers of Balance in Me wrote about how to bring more balance into our lives.  Her common sense and for the most part simple suggestions are something you might want to check out. I know I'm glad I did. (Click on the header above or the image below to be linked to her post.)
As I write this, my version of Lauren's Healthy Delicious Strawberry Rhubarb Tart is cooling in my kitchen.  I can't wait to grab a fork and give it a taste.   However,  I am waiting until noon when I will be enjoying it with my mother.  Thankfully we were able to find time to see each other on her very special day.   So here's to you Mom, for without you I wouldn't be so many of the qualities – feisty, compassionate, sensitive, creative and my own person – had you not been my mother when I was a child and my friend now that I am an adult.  I love you so much. (Thanks for letting me give a little shout out readers.)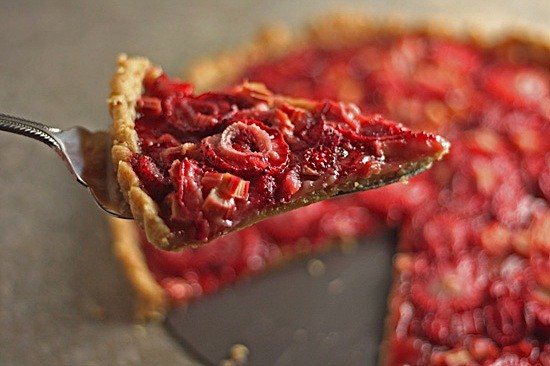 Franki Durbin of  Life In A Venti Cup wrote a post this past week that had me reading a few more times, due in large part because I periodically run a similar conversation through my head.  In her honest, light-hearted, but no nonsense tone she provokes her readers to raise the bar in life and for themselves.  However, she said it much more eloquently than I, please have a look.
Our recent spring weather that has been showing all of its true colors – rain, wind, gorgeous sunny days and everything else mixed in – has had me thinking of the beach.  I have also been thinking of the beach because it is where I can unwind, where my feet literally go up and stay up for most of my visit, and I love it.  Unfortunately, it has been too long since I have visited.  With Erin of Apartment #34's help though, I was able to, if only for a moment, pretend I was there.  She has compiled some lovely images of beach home decor.  Have a look.
An interesting and indeed thought provoking quote came by way of Gretchen Rubin's The Happiness Project recently and while it is not one to be skimmed over quickly, it is most certainly one to be contemplated.  I'm curious to know your interpretation. 
"Natural inclinations are assisted and reinforced by education, but they are hardly ever altered or overcome."
-- Montaigne
Have a lovely Sunday everyone!
Images: (1) Glitters (6) Alpha Blogs
Labels: Mother's Day