Beautiful Papered Walls
I can remember my mother putting up wallpaper when I was a child and how the seams had to match up just right.  Due to this requirement, I can't recall how many times paper had to be taken down and put back up again until it was exactly just so.  At the time, it seems a toiling job, but as I visit my parent's home as an adult, the walls still exude a simplistic texture that adds just enough depth. I can now appreciate the effort that it took to bring the room to it's beautiful state today.
I myself, have never attempted to put up wallpaper, but am itching to try as I see the immediate change it can bring to a room. There is an instant regality that is brought to a room when the appropriate wallpaper is used. Take a look at the rooms below and notice how it can be used in so many different ways.
Silk chinoiserie wallpaper creates a dramatic backdrop in this dining room found in Southern Accents.
  Textured wallpaper in a solid color is a favorite that my eye tends to gravitate to, allowing the accessories of the room to be cause for conversation, yet without the rich backdrop they wouldn't be as brilliant. -Southern Living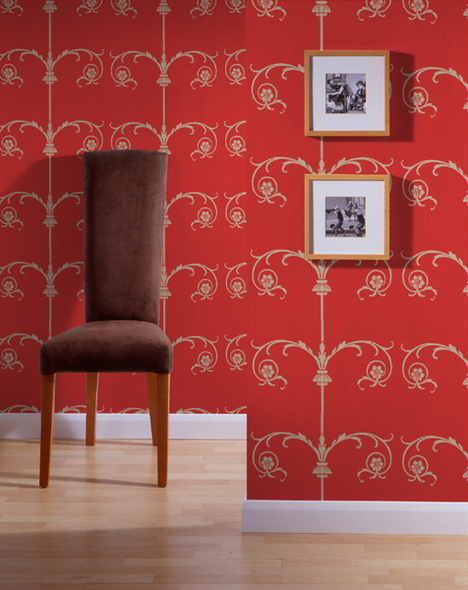 Brilliant bright colors to warm up a room and eliminate a need to over decorate. -Graham and Brown wallpaper
Busy wallpaper should be used in small rooms to make the most of its impact. –(1)Coastal Living, (2)Decor Pad
Bring life to your closet by adding theme oriented wallpaper. -Decor Pad
Make a dramatic and fabulous first impression by wallpapering your foyer. –Decor Pad
Wallpaper can add that simple and classy element that you have been searching for.  -Graham and Brown wallpaper
Labels: Graham and Brown, Pocock Cavalet, Turner, wallpaper