Rules of Style – Cat Deeley
So You Think You Can Dance is back on the air for its 6th season, and its likeable leggy host, Cat Deeley is someone I look forward to watching simply to see what outfits she will come up with.  Last year, after reading InStyle's interview with the British 5'9" former model, I was impressed to learn that not only does is she her own stylist, but she does her own hair and makeup as well.
Needless to say, she knows how to pull an outfit together and create an fantastic look. With her Farrah Fawcett like blonde hair, a winsome smile that is engaging and playful, and hypnotic girl-next-door-eyes, Deeley has made her mark on the American audience, and the show just wouldn't quite be the same without her. Here is a look at a few of the rules she seems to adhere to.
{To view a recent article in the LA Times of Cat's many stage looks and fabulous short dresses – click here or to read her interview with The Guardian UK click here.}
One Shoulder
Camel
Dress Pants & Heels
Gold
Gladiator Heels
Gold Accessories (Champagne too!)
A Cape
Black Leather Fringe
The Little White Dress
A Neutral Clutch - Leopard
Military Green Jacket
Dark Denim Trousers
A Wedge Sandal & Tea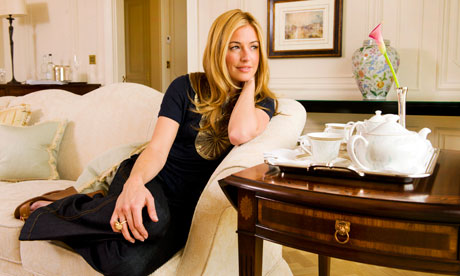 An Infectious Sense of Humor
Images: (1) Source (2) Source (3) Source  (4) Source (5) Source (6) Source (7) Source (8) Source (9) Source (10) Source (11) Source (12) Source (13) Source (14) Source (15) Source (16) Source