Rules of Style – Victoria Beckham
Most recently, Victoria Beckham was seen at the Royal Wedding wearing a Philip Treacy fascinator, showing a very pregnant look, yet still the stylish maven in sky-high custom daffodile Christian Louboutin heels. 
Whether she chooses jeans or her more favored go-to look a silhouette revealing dress or blouse and pencil skirt, she clearly knows how to pull a look together, as she demonstrates with her fashion line which began in 2009 – most recently Spring 2011 RTW and the Fall 2011 RTW collection. One thing that is very evident is that as her style matures, she gravitates more and more toward neutrals which I think is one of the biggest take-away lessons. Neutrals never go out of style, as long as they are made from quality fabrics and tailored beautifully. Take a look at how she does it.
Show the Legs, Stack the Heels
Just Black
Oversized Sunglasses
Hats
Neutrals & Classic Staples
Beautiful Nudes
Black with a Pop of Color
Casual with Heels
Just Below the Knee
Jeans & a Tailored Jacket
Gray
High Waist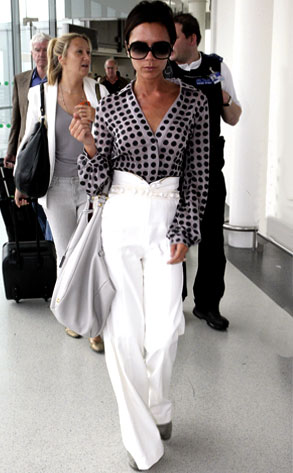 Stand Out Trench
Oversized Tote & Mod Dress
Belted Cardigan
Other stylish women you might also enjoy:
Images: (1) Source (3) Source (5) Source (6) Source (8) Source (10) Source (11) Source (12) Source (13) Source (14) Source (15) Source (16) Source (17) Source (18) Source (19) Source