Nordstrom – Half Yearly Sale!
One of the shopping events I look forward to is the Nordstrom's Half-Yearly Sale. Beginning today and running through Saturday, May 28th, thousands of items for women and children are on drastic reduction.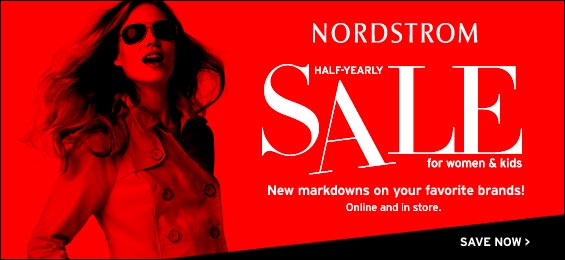 Thrilled to have Nordstrom as a sponsor on The Simply Luxurious Life, I regularly shop online and stop in at their store in downtown Portland on Broadway when I am in town.
Here are just a few of the items I gathered together while perusing their website during the sale.  Be sure to take a moment and discover shoes, clothing, jewelry, handbags and other accessories on sale that will save your budget and make your closet smile.
*MICHAEL Michael Kors trench (in black too) - $79.90
*Nike 'Be Strong' New Fit Dri Fit Pants - $39.90
*7 for Mankind straight leg cropped jeans - $99.90
*Calvin Klein 'Stretch Luxe'  seamed sheath dress - &65.90
*Luxury Rebel carmel sandal - $79.90
*Tory Burch linen belted cardigan - $194
*Ports 1961 Belted Mélange Silk Dress - $594 (from $995)
*MARC by Marc Jacobs Clemence sweater - $99.90
If you are a regular shopper at Nordstrom and aren't one who wants a store credit card (I despise it when I am continually asked), but still want the special deals that are offered to loyal shoppers, try their Mod card which is connected directly to your checking account and acts as a debit card. This card is something I discovered a few years ago, and I am so thankful to have as I pick up make-up products at Nordstrom when I run out and always depend on their jean selection when I am in need of a new pair.  By using my Mod card I don't have to worry about credit card interest, but am still able to reap the rewards by earning double and sometimes triple reward points during certain times during the year.
Either way, whether you are a regular shopper or not, the deals are wonderful during these next few days.  Personally, I have my eye on Michael Kors' trench which is under $100. Just what my closet is looking for. Happy shopping!