Stylish Promotion by the Fab Four
The whirlwind promotional tour the four women of Sex and the City have been on this past week has been impressive – beginning in New York last Monday for the premiere at Radio City Music Hall, promotional interviews throughout last week around the city, then a quick trip across the pond to London where their film premiered in Leicester Square on May 27th.  But they weren't quite finished yet – Japan was waiting for their arrival and arrive they did to promote the premiere on June 1st.  Here are all of the gorgeous fashions worn by the four stunning ladies.
Toyko, Japan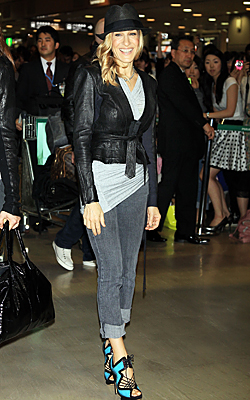 Upon arrival and for a bit of promoting, Ms. Parker dressed casual with shoes by Nicholas Kirkwood (seen three other times – I can see why – love them!).
Just before the premiere, the ladies posed for a photo call in Toyko. Cynthia Nixon in a black fitted dress with matching black pumps,  Kristin Davis in a Giambattista Valli red knot dress, paired with snake skin pumps, pre-bob Kim Cattrall shines in a floral print dress with gold belt and Sarah Jessica Parker wore a vintage Richelene navy sequin strapless dress, topped with a white Alexander McQueen blazer with blue trim and gold clutch finished off with Ferragamo pumps.
At the Toyko premiere, the ladies, as an ensemble, topped the first two appearances in my opinion which was hard to do.   SJP, possibly as an homage to the first movie's beautiful wedding gown, wore a floral Vivienne Westwood design, accessorized with a Raven Kauffman Couture belt, gold Alexander McQueen clutch, satin Charlotte Olympia pumps and a statement necklace featuring endless diamonds.
Kim Cattrall impressed just about every critic in a beautiful gold gown by Indian-American designer Naeem Khan and showed off her new hairstyle.
Kristen Davis, as though almost in character of Charlotte, chose a lovely yellow taffeta vintage Jean Patou haute couture design by Christian Lacroix and topped the look off with glittering Christian Louboutin heels.
Cynthia Nixon looked stunning in a simple strapless asymmetrical hemmed Calvin Klein design which included just the right amount of detail.
London, England


My favorite dress was Davis's Norman Norell gown – the sparkles and the beautiful waistline couldn't be outdone.
Nixon in a blue Narciso Rodriguez dress.
Cattrall in a very classic, yet alluring black strapless vintage Thierry Mugler.
Sarah Jessica paid her respects throughout the entire week to Alexander McQueen and looked ravishing in his black design.  As she did for the first movie, she not only wore McQueen, but also continued to be an original by wearing one of  Phillip Treacy's hats.  The jewels were Fred Leighton.
At the after party in London, SJP in Halston dress, Ferragamo shoes with a Roger Vivier clutch.  Kristin Davis in a green taffeta frock.
Cattrall dons Manolo Blahnik heels with a one shoulder knee length black dress, while Cynthia Nixon opts for a shorter dress as well.
New York, New York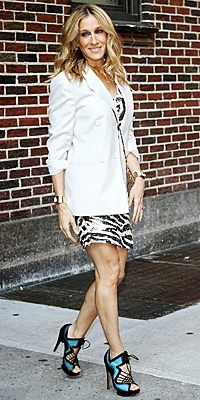 On Late Night with David Letterman, Stella McCartney blazer, Blumarine dress and my favorite part – those Nicholas Kirkwood heels.
I want this dress in my closet – gorgeous!  As seen on CBS's Early Show last week with Alexander McQueen heels.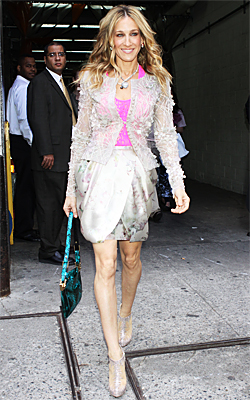 For the SATC2 press conference at Bergdorf Goodman, Parker wore a cardigan and skirt by Elie Saab and Christian Louboutin heels.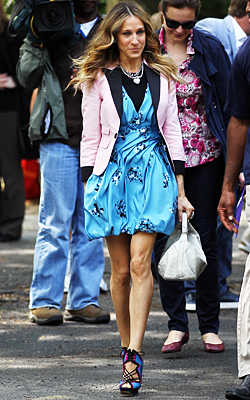 These Nicholas Kirkwood heels seemed to be a favorite (worn at NYC after party as well) and paired with a  Proenza Schouler dress for an Access Hollywood interview.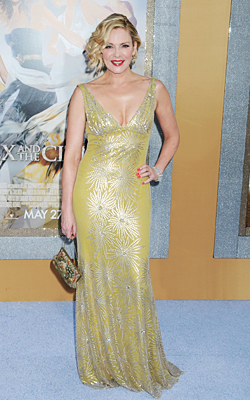 For both the premiere and the after party, Kim Cattrall wore Naeem Khan.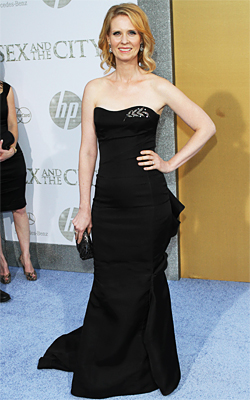 Cynthia Nixon in Carolina Herrera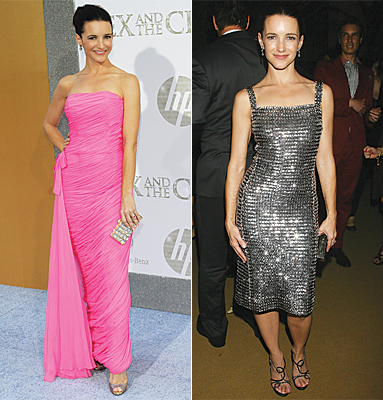 For the premiere, Kristin Davis in vintage Jean Desses, and Pierre Balmain Couture from Decades for the after party, but don't forget the Christian Louboutin heels.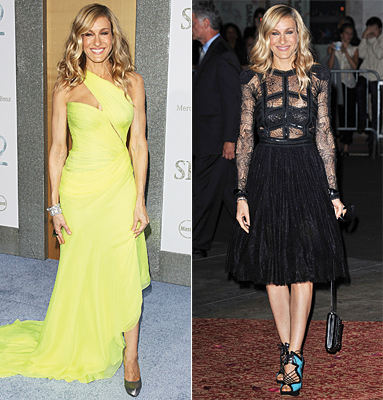 A beautiful canary yellow haute couture gown by Valentino (that SJP shared was immediately shipped back to Italy the next day), Ferragamo heels and Fred Leighton jewels for the premiere and an Elie Saab dress and the ever popular (good choice!) heels by Nicholas Kirkwood.

So until we see them in the theaters (for our second viewing of the film – at least for me) or via our DVD players, thank you ladies for displaying that women continue to look more luxuriously fabulous with age.  Bravo!
Readers, what were some of your favorite designs and fashions?  I'd love to hear.  Have a wonderful Thursday!
Images courtesy of Instyle
Labels: Cynthia Nixon, fashion, Kim Cattrall, Kristin Davis, London England, New York, premiere, Sarah Jessica Parker, SATC 2 movie, Toyko Japan