Rules of Style – Sarah Jessica Parker
Fashion is a love of mine, as you may have noticed here on
The Simply Luxurious Life
. Feeling beautiful, exuding confidence and proceeding through life with a belief that dreams can come true all, in some way, have a tie back to what you wear on a daily basis. Due to that fact, I began to realize that there was a weekly post that was missing here on
The Simply Luxurious Life
.
I am a very Type A personality, organized, compartmentalized, planner, etc., so when I found that I needed to make a space for a regular style post, I took some time to figure out exactly what would be most enjoyed by you the readers and what seems to have endless possibilities, and this is what I have come up with.
A few months ago, I wrote a post titled
Cameron Diaz's Rules of Style
and realized that so many of our frequently photographed celebrities are walking magazines, displaying endless amounts of ideas regarding fashion, how to put an outfit together, which colors look well together and so much more, so I thought I'd stick to what worked.
Rules of Style will be brought to you with the help of some very fashionable ladies that are (or have been) frequently photographed. No matter what your shape, height, style or skin tone, you will be able to gain even more tips on how to create your best wardrobe that fits your lifestyle. For example, Sarah Jessica Parker has long been someone who continues to inspire fashionable ideas in my own wardrobe, but I am far from her stature. She, a mere 5'3", myself 5'10", but I can still learn tremendously based on how she pulls a wardrobe together, and I hope you will too no matter which celebrity is chosen each week when you stop by.
With all of that said, I had to begin with the most fabulous SJP. Recently, it was announced that
Sex and the City 2 DVD
would be released on October 26, so in homage to that, as well as to her ability to continue to inspire off-screen, she will be our inaugural lady of fashion as we begin a new series –
Rules of Style
.
Casual Yet Still Stylish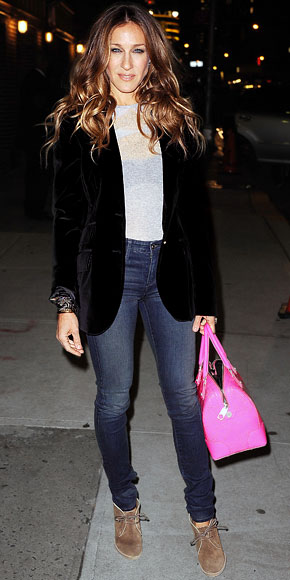 Whether you are running a quick errand down town or dropping something off at a neighbors, remember to take pride in how you look. It always seems you see who you'd least expect or want when you've crossed your fingers and hoped that nobody would see you in your "not-so-fabulous-ware", so whether it means adding a touch of blush, mascara sunnies & a trench coat, be sure to add a touch of style each time you step outside of your home.
Scarves
Speaking of always looking your best, whenever you're looking for that pop or touch of color, just add a scarf. No matter what the season, a scarf does wonders for any outfit, especially if you tend to dress in mainly neutrals and classic colors. A pop of a red scarf or any print is the perfect complement.
Mix & Match
This particular piece of advice always eased my mind a bit when I felt that everything on my being had to be top-of-the-line. Mix and match designer brands with something you discovered at H&M, Target or Kohls. The beautiful thing about doing this is at one high quality item does help raise the "style factor" when it comes to the entire look. As long as everything you are wearing fits well and complements your figure and your assets, no one will care, they'll just see someone who knows how to put together a wonderful look. So if you're in the mood for jeans, pair them with a fabulous pair of heels or beautiful flats – viola, you've just pulled it all together.
Take A Risk
Once you've you are confident and comfortable with your ability to put an outfit together that allows you to feel your best, experiment a bit, just as Sarah Jessica did for the premiere in London of Sex and The City Movie in 2008. It works because she is owning it, not flaunting, not cowering, simply just being herself.
The Best Accessory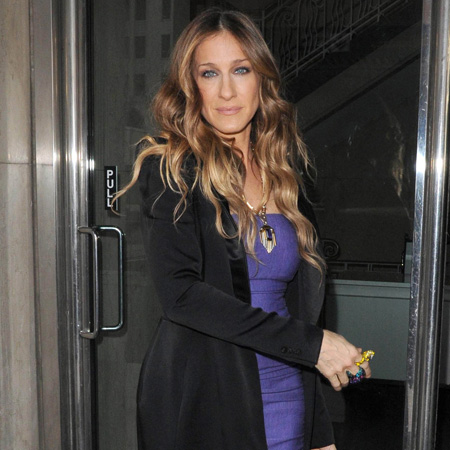 No matter what outfit you have chosen to wear, the accessory you bring with you everywhere is your coif, or hairstyle, so be sure that it enhances your look. I am repeatedly bringing in magazine photos to my hair stylist even though I've been with her for over four years. And never hesitate to ask your stylist what would look best for your facial structure. As long as you are willing to be open, who knows what fabulous look you may walk out with.
Be A Lover Of Fashion
Now, not all of us are able to attend the fashion galas Ms. Parker is able to, but regardless of this, your love for fashion will enable you to see a variety of different ideas as you flip through your favorite fashion magazines. It will have you, again, seeing a variety of ways to put an outfit together as you're watching the Red Carpet Pre-Award Shows. It may also bring you to read books that present ideas that you at first wouldn't have considered. So be open, enjoy this passion because the beauty of fashion is that it extends into so many other facets of life and your knowledge will pay off.
Dress For Yourself
Ultimately, your wardrobe must work with your lifestyle, but it must also present your best self, no matter what career or life you live. So if you gravitate toward more casual, really throw yourself into it and own. Be willing to purchase the highest-quality pair of jeans you can afford because trust me, you'll get your money's worth. The same advice holds true for someone who wears heels. If it is you to wear three inch heels the majority of the week, invest because when people see that you are willing to invest in yourself, they will be more willing to invest in you.
Be A Lady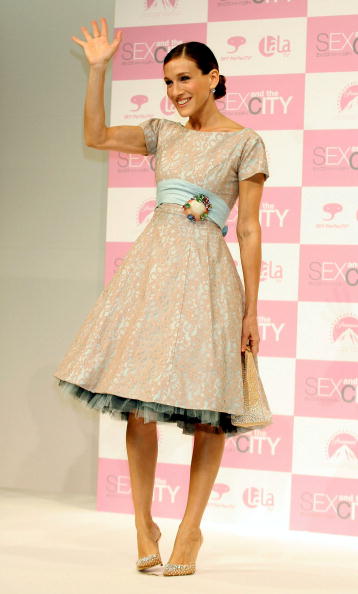 There is something to be said for wearing a dress, for displaying your womanly figure and showing a bit of leg. One of the many gifts of being a woman is the ability to wear a dress. I truly find that a well-tailored dress does so much for a woman's appearance. Whether you are wearing one for an evening out, to work or to a wedding, a dress is fun, a dress is a way of subtly flirting and a dress is a way of saying your thankful you are a woman. (Read more about my thoughts on
being a Modern Lady
here
.)
Never Forget Your Heels
I've said it
before
, but I can't say it enough, be willing to wear heels. The magical power of these beautiful inventions is amazing – slimming, butt-lifting and especially fun. And as you may have noticed, heels can go with just about anything – a dress, jeans, shorts, skirt – you name it. If you have the confidence to wear them, you will find a perfect pair for your outfit.
Above all, it is my opinion that (as the first photo states) fashion is not a luxury. It is an expression of who we are and how we view ourselves. Whether you are on a tight budget or are one of the lucky ones with endless amounts, there is always a way to look more pulled together, which ultimately results in a more fabulous you which will boost one's self-confidence on any occasion.
I hope you are having a wonderful weekend and find this new weekly edition something you'll enjoy.
Labels: fashion, rules, Sarah Jessica Parker, style