Rules of Style – Katie Holmes
Katie Holmes really has reinvented herself since she was a star on Dawson's Creek. Now, Katie can be found consistently displaying a classic, yet unique style that is a bit reminiscent of style icon Jackie Onassis. Coincidentally, Holmes will be playing the role of Jackie Kennedy in an upcoming eight part mini-series that will appear on The History Channel in 2011. Greg Kinnear is tapped to play John F. Kennedy.
But back to the style that Katie has become known for. There is truly something about her natural beauty, but her ability to pull together such beautiful ensembles that carry her from day to night is something I have enjoyed watching over the years. Let's have a look at a few of the rules she can teach us all.
Classic, Yet Unique
Whether stepping out on the town or simply running errands, pull together a classic look with a few prints or stripes to add a touch of your own style. A classic sheath dress in a eye-catching, but beautiful print; a classic blazer, skinny jeans and boots with a nautical top, or in the last look, cropped jeans, a white blouse and peep-toe pumps. Whatever you are choosing to wear, you can't go wrong with classic colors or shapes, but it is in the including your own style within the look that makes it unique.
Polka Dots
Who would have thought, but polka dots are an easy way to perk up an outfit without being too outlandish. Whether it comes in the form of a scarf or a blouse, why not try to include it into your wardrobe for a bit of whimsy.
Scarves
Scarves, as I've said before, can take you through each of the seasons with comfort, style and a bit of character. Whenever you're not sure what accessory to add, by default, grab a scarf.
A Go-To Uniform
Every woman should have a uniform of sorts when it comes to weekend attire, running errands or stepping out of the house. Nothing steps up confidence more readily than when a woman knows she looks pulled together and at her best. What is referred to as a uniform is simply what Katie models best above, a classic trench or camel coat, sunglasses and a quality bag. Your uniform may be a bit different, but ultimately it should be something that makes you feel good and look great at the same time. As mentioned in Rachel Zoe's book – this idea of an essential wardrobe that allows anyone to mindlessly pull together a fantastic look is something that will bring more peace of mind to an already busy life.
Add A Pop Of Color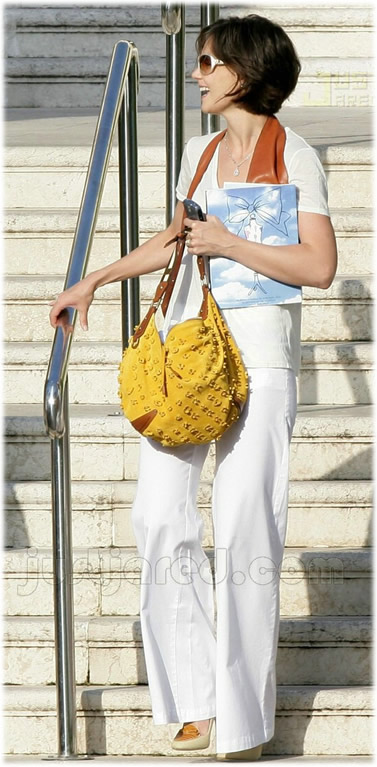 Katie tends to wear very neutral colors, but her accessories are what bring the bit of intrigue which ultimately raises the level of wow in her outfits. Adding a pop of color, whether it be your tote, your shoes, a scarf or belt, even a red, yellow or green trench, is a way for you to remain a bit conservative, but still have a little fun.
Cardigans
Cardigans can truly take you from morning to dusk. Whether you are pairing them with jeans or a dress, they can serve so many purposes. Try having a few in a handful of classic colors – black, taupe, gray, ivory and navy, and you will be set for either time at the coast, a stroll to your regular latte house or your child's conferences.
Show Your Shoulders
Donna Karan repeatedly states that woman never gain weight on their shoulders. In other words, all of us should be flaunting them when we find an opportunity or a gorgeous outfit. Whether you choose strapless or halter, they truly flatter a woman's figure and bring the eyes of all the on-lookers up.
Boyfriend Jeans
Boyfriend jeans are a comfortable way to appear cool and relaxed, yet still in style. Just be sure that your top is more form fitting and your shoes are somewhat petite (such as flats or heels) in order to appear purposely comfortable, yet pulled together.
Monochromatic
There aren't many ways to pull off a seamless silhouette more confidently than sticking with one color. Whether it be black, navy, off-white, you name it, it streamlines your body and helps to make it appear even slimmer.
Well, that wraps up this weekend's Rules of Style. Stop by next week as we'll share yet another iconic woman's style. Happy shopping and enjoy your weekend!
Images: (1) Source (2) Source (3) Source (4) Source (5) OK Magazine (6) Source (7) Source (8) Purse Blog (9) Source (10) Source (11) Source (12) Just Jared (13) Source (14) Source (15) Source (16) Source (17) Source (18) Source (19) Source (20) Source (21) Just Jared (22) Source (23) Just Jared (24) Source
Labels: Katie Holmes, style