Cups of Tea 7/11 – 7/17
This weekend has been full of beautiful reminders that the simple things do matter,  a clean house, good friends, surprise visits, being healthy, having food in the fridge and people looking out for you.  It's funny how that works sometimes.  As I've said many times before, luxury can be found anywhere and in so many different venues – whether they be extravagantly decadent or simply ordinary and necessary, it only takes the time to look.
I hope your weekend has been treating you kindly and you've been able to spend some time with a smile on your face and a laugh or two to the sky.  I have a feeling a beautiful Sunday awaits you.  So why not start it off by preparing yourself a cup of hot delicious caffeine – tea or coffee – your choice, and join me for a few truly inspiring, uplifting and delicious blog posts from some lovely people – old friends and new.
The Sassy Steel Magnolia.  The name alone of this blog intrigued me, and while I immediately perused further into Jennie's beautiful blog, I discovered a site I had to place on my Lovely Blogs list.  This particular post is the one that made me realize that she too appreciates those simple pleasures. Have a look by simply clicking on the header or the image to enjoy her thoughts on the ideal way to enjoy those summer storms.
I have been dying to try this recipe, and finally last night with freshly cut rhubarb given to me by my neighbor, I immediately went to town a treat for my Sunday morning ritual – watching CBS Sunday Morning.  Let me just say, this morning I'm enjoying a healthy piece of Rhubarb Crumble thanks to Mary of Delightful Bites and Charles Osgood is wishing me a fabulous good morning.  The batter alone will send you over the moon truthfully, but the finished product is perfect to share with overnight guests over a hot cup of tea on a lazy morning. Thank you Mary yet again. Click on the image below or the header above for the recipe.
One topic that seems to always be something people are trying to accept more gracefully is change. The post I've chosen for this week's Cups of Tea's informative piece is Leo Babauta of Zen Habits insightful post on how to better deal, accept and successfully incorporate the reality of its presence in our lives with large or small things – my/his reason for including the image below. Have a look at his entire post.
When I first came across DeeAnne of Live the Charmed Life, I knew immediately I had found a blogger (and blog) that spoke to the way I try to live my life.   Throughout her website you will find infinite amounts of inspiration and ideas that reveal to her readers that a charmed life can be lived no matter where you reside, what your social status or what stage of life you may find yourself. Her blog is such an absolutely delight that if you haven't already visited, you must try to take a moment to do so. One Hundred Everyday Ways to be Adventurous is a great post to cut your teeth on, but don't stop there. Be sure to visit another one of my favorite posts – 100 Ways to be Elegant.  Enjoy your visit.
Jess, author of  The Love List provides some beautiful words for thought this week. Something always to ask yourself, what are you filling your home with?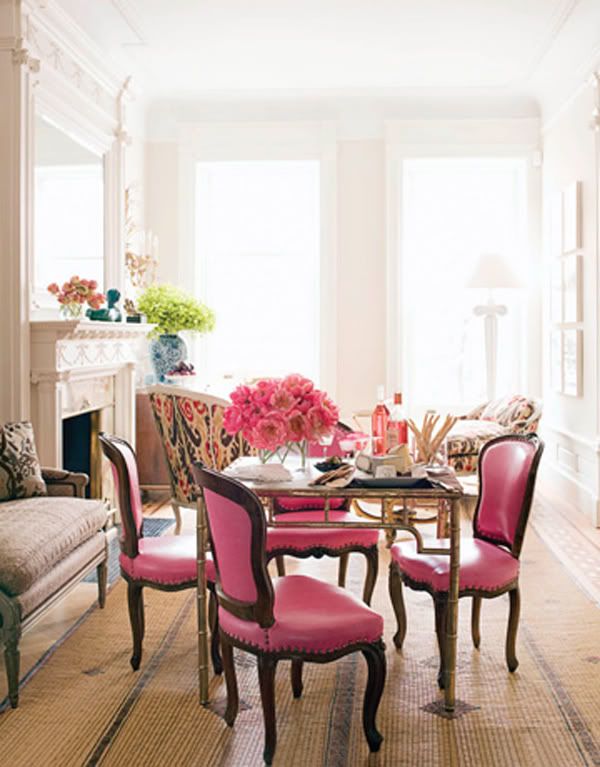 "Love is essential to the decoration of a house ... A room must say, 'My love is here,' or 'My love has just left,' or 'I'm waiting for my love to arrive.'"
-Madeline Castaing
Have a lovely Sunday everyone, and  a grand welcome to my new readers and a genuine thank you for my readers who continue to return.  I appreciate you both for taking the time to stop by. 
Images: (1) Morning Tea