Cups of Tea 6/20 – 6/26
Yesterday morning, while spending some time with my mom, we began the day by having tea outside in her gorgeous yard and simply soaking up that perfect moment that begins each day. In a way, we had our own little tea party you could say.  Yes, I know for many of us the temperatures are reaching into the sweltering nineties, and who wants to drink a hot beverage in such conditions, but at during such a youthful state of the day, the air had just a touch of a crisp chill to it and the warmth of the tea created the perfect balance. To be sure, a moment I will savor. Oh, and of course we had three dogs rousting around in the yard, enjoying themselves to pieces.  Ah . . . the treasures of summer.
Moving on to some more great moments regarding tea. This week's Cups of Tea include a bounty of dreamy images from Europe, the perfect way to jazz up your next BBQ, tips on how to stay fit, but keep it simple (gotta love that!) and one of my favorite analogies when it comes to remembering everything we do does matter. Have a look.
Dawn, of the blog The Alternative Wife, has been a pleasure to get to know, and her blog is extension of her warmth and sincerity.  Quickly becoming one of my daily reads for many reasons, this particular post grabbed my attention as I was already in awe over Vogue's cover shoot with Marion Cotillard in Provence.  With these images Dawn has brought even more of the beauty that resides in Provence, France, to her readers.  Thank you and enjoy all of the photos by clicking on the image below or the header above.  
2. Be Italian!
The beauties of Europe were abundant this week on the blogosphere, and one of the posts that grabbed my eye was shared by Heather Clawson of Habitually Chic.  The book Italian Touch displays arrays of beautiful photographs of Italians and their homes, and reminds me immediately why I want to "Be Italian!" 
Two things that just seem to go together are summertime and hamburgers on the grill.  As soon as Lauren of Healthy Delicious's recipe and image of the Greek inspired burger with feta and tzatziki was opened in my inbox, I knew I had to include it on this week's Cups of Tea.  Doesn't it just look scrumptious? Click on the image or the header to grab the recipe.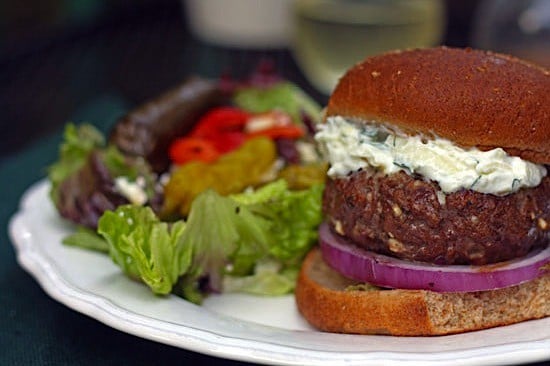 Sometimes the daunting undertaking of getting back into shape is so hard to fathom, we are deterred before we even begin, but with Leo Babauta of Zen Habits' post, he brings it back to the basics.  While most of these suggestions are things we've heard before, this knowledge somehow seems to slip through our fingers when we try to make fitness more difficult than it has to be.  Click on the image or the header to read his entire inspiring post to help us all get (and stay) in shape.
If any of you work or spend time in the field of education, you most likely have heard this story about the one starfish.  If you haven't, I think you may like it. CJ, author A Penny for My Thoughts, shared it with her readers as a way of thanking one of her children's teachers who was moving on to another position.  Click on the image or the header to read this short, but inspiring story to remind us that our actions, while we may only be one person, have a tremendous effect.
Enjoy your Sunday!
Images: (1) We Heart It (5) Source