Rules of Style – Molly Sims
With an All-American beauty about her, standing at 5'9" Molly Sims radiates a sense of blasé self-confidence that demonstrates she knows her body, and she knows how to dress it well. Styled most recently by Rachel Zoe, she is also becoming a designer in her own right with her jewelry line Grayce. With an eye for style and a passion for fashion, Molly repeatedly appears on the red carpet looking gorgeous. And with the holiday season coming up, and the invitations for parties about to arrive, I thought that Molly would be the perfect person to look at when it comes to looking fantastic for a night out.
Let's take a look at how she does it.
Know Your Skin Tone
The key to choosing the right color for whatever piece of clothing you are wanting to wear is to know your skin tone. Do you have pink,yellow, olive or brown undertones? Molly Sims allows her pink undertones to be highlighted when she choosing to wear magentas, bright yellows, crisp whites and turquoise. What make up you wear is also determined by your skin tone, click here to get a quick "how to" on determining your color. If you still aren't sure, just ask a makeup artist the next time you are at your favorite department store. Such knowledge will eliminate a lot of frustration and result in much more success.
Envelope Clutch
Whether you are attending an charity event, going out to the theater or dashing out for a date, an envelope clutch is a versatile handbag to bring because while fairly small, it can still hold necessary slips of paper, business cards, cell phone and make-up for touch-ups.
Nude Pumps
Whether you are blessed, as Molly is, in the gams department or not, nude pumps elongate the leg and are the hue of choice when you're not sure what color to wear allowing the focus to be on the clothing and beauty beneath them.
Show Some Leg
Speaking of gams, if you have them, flaunt them. The trick, however, is to show off one asset, while stylishly covering the rest. Notice Molly is wearing 3/4 length sleeves in both of the photos above and not revealing much, if any cleavage. A short dress also calls for your most statement making stilettos, so have some fun.
Wrap Dress
Solid, print or striped, wrap dresses are a necessary staple in any woman's closet (read my post on my 10 Wardrobe Essentials). Not only do they have the ability to hug your body just perfectly no matter what type of day you're having, but they come in so many different variations: long sleeve, sleeveless, cap sleeve, long, short – you name it, most likely, you'll be able to find it. And the versatility continues as you can wear them to work or in the evening for dinner.
Black Tights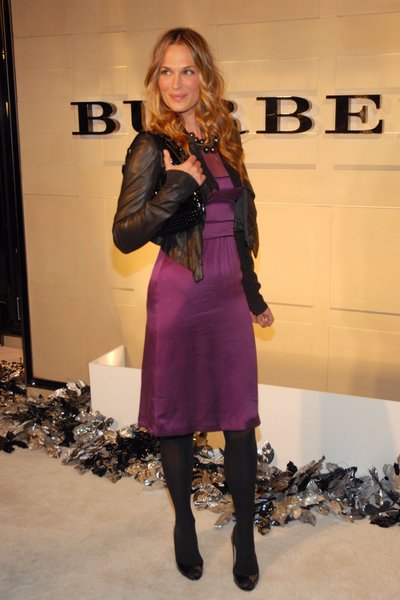 With winter fast approaching and fall already here, don't shy away from wearing a skirt or a dress. Simply add black opaque tights to your wardrobe and you will continue to look stylish, and more importantly – warm.
Peep Toes
Molly is a huge fan of the peep toe heels, and here is why I like them as well. Whether it's summer or winter, a peep toe can be appropriate. Unlike a sandal that can't be worn in winter, add some tights or simply pair them with jeans as shown above. And it also provides yet another excuse to make sure you have a lovely pedicure peeking out.
Sequins
Sequins. A trend I am thoroughly loving. A touch of sparkle to a very simple outfit can making a tremendous difference. J.Crew has an array of choices in skirts and tops and most designers this fall have at least a top that is perfect for the holiday party season that is just around the corner.
Be A Girl
First of all, notice the peep toe heels. And then, the gorgeous dress. Woman have the luxury of being able to wear dresses in all shapes and sizes and I say, take advantage of this fact. Feel like a girl and have some fun, but always remain a lady.
Friends Who Know
Unlike Molly, Rachel Zoe isn't my stylist, however, it never hurts to seek the counsel of ladies who demonstrate an unquestionable knack for style. Ask them questions: where do they shop, how do they put an outfit together, anything along these lines is a genuine compliment and will usually be met with a tidbit of wisdom that you may not have already had.
Want some more Rules of Style? Here are a few other ladies that have been highlighted:
Images: (2) InStyle (3)Style (4) Source (5) Style (6) Source (7) Style.com (8) Style (9) Fashion Manifesto (10)Couture In The City (11) Style (12) Source (13) Style (14) Closet Cravings (15) Source (16) Style (17) Tonic (18)New York Daily News (19) Style (20) Style (21) Source
Labels: holiday party style, Molly Sims, Rachel Zoe, Rules of Style