Rules Of Style – Kelly Ripa
Her laugh, her fit physique, her love of Victoria Beckham's designs, Regis, her husband. Okay, I'll admit it, I am very envious of Kelly Ripa's life, but the fact remains, she is 5'4" and I am 5'9", and the least I can do is learn from her signature style.
As I began to share yesterday in my new series Why Not . . . Create Your Own Signature Style, there really are no set rules that each of us must follow in order to create a signature style. In fact, in order to create our signature style, we must throw away the rule book so to speak.
However, with this Rules of Style series, each woman I have spotlighted is someone who has indeed created her own rules, and I try to share what we can learn from the rules they appear to live by when it comes to expressing their unique signature style.
Kelly Ripa is a force of nature it seems. Her energy, boisterous and sincere laughter, comedic timing and zest for living a full life, all combine to reveal a woman who owns who she is, is more than comfortable her reality and refuses to be defined by looks alone. While I have to say she does have style rules that clearly work for her, her approach to life is even more inspiring. Let's take a look.
Elongate Your Leg
A quick and surefire way to elongate your leg and appear Rockette-leggy is to wear boot-cut jeans paired with stilettos making sure that the hem falls well past the heel. And even if you are already tall, like myself, don't shy away from this look, due to the pairing of heels and the cut of the jeans, you are instantly slimmer.
Dress Neutrally
Kelly Ripa is someone who regularly wears colors proudly and very well, but as you can see, wearing a neutral dress is just as flattering if it is accessorized well – statement making heels, eye-catching, but not too gaudy, jewelry and a beautifully coiffed 'do.
Cowlneck Neckline
Less amply endowed women have more than a few ways of deceiving the eye, and one way is to wear a cowlneck. Whether it be a sweater, an full skirted dress, a sheath dress or a winter coat, the cowlneck draws the attention to a woman's clavicle which is quite sexy indeed in its own way.
Flattering Shorts
The trend of shorts being incorporated into the boardroom is something that takes confidence and a great pair of legs, but as you can see from above, they really have versatile capabilities – wear them for fun or wear them for work.
Don't Take Yourself Too Seriously
The grandest and most helpful lesson I take away from observing Kelly Ripa is her ability to not take herself too seriously. The key is to know where to draw the line, how to keep the balance. Being humble and hilarious is one thing, but refusing to accept much deserved compliments is quite another. Ripa is a beautiful woman, but she is well aware that depth of character and a good sense of humor are much more important to sustain a strong character in any business.
Comfy, Yet Stylish
"I don't understand how a woman can leave the house without fixing herself up a little. If only out of politeness. And then, you never know, maybe that's the day she has a date with destiny. And it's best to be as pretty as possible for destiny."
– Coco Chanel
Even if you are running to the store to pick up a few last minute items, make sure you look stylish. While casual, you can still include a pair of neutral heels and slap a quick layer of lip gloss on, before you walk out the door. Not only will you look pulled together, but you will feel more confident. Because who knows you might run into. (Click here for learning how to create a casually stylish uniform that works best for you.)
Regular Exercise
No matter how chaotic your life may be, regular exercise is a foundational component to help maintain your sanity, health and adequate energy to make it through each day successfully. Whether you choose running, like Ripa, pilates, walking, or swimming, just make sure it is an activity (or activities) that you enjoy enough to continue doing on a regular schedule.
Enjoyable Company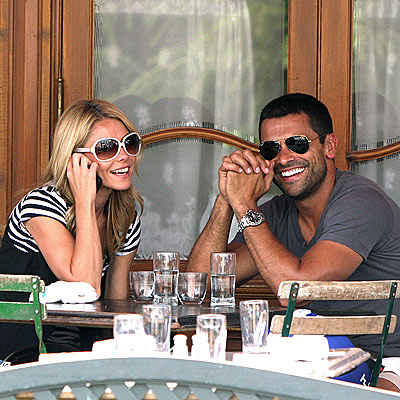 Between her husband Mark and her co-host Regis, Kelly's company is a laugh and a half. Nothing can help you to foster your true self more than people who allow you to be yourself and bring out the best in you on a regular basis.
A Bit Of Mystery
Myself being a person who covets her privacy, as much as Kelly Ripa is in the public eye, it's very clear she has a healthy balance of work/celebrity and family. And while her fans may think they know why her life runs as smoothly as it appears, she keeps her personal business secret. She obviously knows how to be herself and is comfortable with who she is, and in knowing this she knows she doesn't have to expose everything to be successful.
Images: (1) Source (2) Source (3) Source (4) Source (5) Source (6) Source (7) Source (8) Source (9) Source (10) Source (11) Source (12) Source (13) Source (14) Source (15) Source (16) Source (17) Source
Labels: Kelly Ripa, Rules of Style