A Brunch Date
With Christmas just a handful of days away, I couldn't help but bring my focus to the kitchen. This year our family will be enjoying a holiday brunch on Christmas day and must say, I can't wait. Brunch to me is something special, yet at the same time very comfortable. Brunch allows you to ease into the day and then indulge in decadently rich and tasty dishes all the while sipping a bit of bubbly. With the combination of luxury and comfort, brunch marries both effortlessly, and after a month of bustling about, what is more deserved?
My personality is much more suited to a brunch menu on such a day that begins early and lounging about in your slippers is all but mandatory. Especially when the evening before a grand dinner will have already been served, I'd like nothing more than to dress nice, yet casual and simply savor the pinnacle of the holiday season with close friends and family.
Items that seem to always catch my eye on a brunch menu and therefore, will be on our buffet come Saturday morning: croissants, lox, bagels and cream cheese, bellinis, goat cheese omelets, brioche French toast, bacon – my mouth is beginning to water, but the list could certainly go on. What are some of your favorites to enjoy during brunch? I'd love to hear.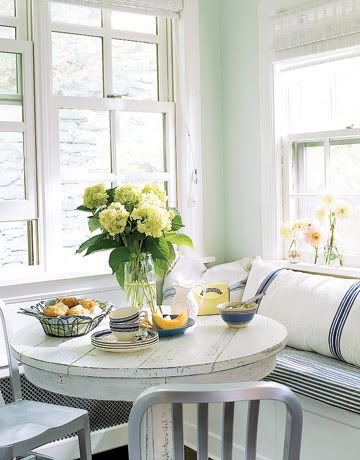 Images: (1) Canadian House & Home (2) Source (3) Elle Decor (4) The Nest Pearl (5) Source (6) Source (7) Source