Rules of Style – Gisele Bündchen
Gisele Caroline Bündchen, while clearly smiled upon by the genetic gods, is a woman who continues to inspire me when it comes to style. Her lengthy frame, mane of golden locks and brushed bronze skin is a stylist's dream. And while most people don't have her model physique, there is still much to be learned regarding how she approaches her own style when she's not in front of the camera.
A Uniform
I am a huge advocate for having a weekend or errand wardrobe that you can reach for in your closet without really having to think about. Gisele demonstrates her go-to outfit with a pair of jeans, black leather jacket, scarf, and a tote. Looking pulled together is immediate, but the beauty of this strategy is that once you know the parameters, you can change the bag up as you see fit, swap and wear different shoes depending on the time of year or the pair of jeans you are wearing. Once you know what works for your lifestyle, you save a lot of time not standing in front of your closet wondering what to wear.
Aviators
The dilemma sometimes presents itself when I reach for my sunglasses, which should I wear – black or brown. Well, owning a pair of aviators solves this problem immediately. A classic design that works well with just about any outfit you have decided to wear is the aviator. And remember, when in doubt, stick with a classic.
Black Jeans
A pair of black jeans is a lovely alternative to your everyday blues. They can be dressed up for evening very easily by slipping on a pair of black heels, a silk camisole and jacket or worn for day with boots. The list really is endless.
White Jeans
During the summer months, white jeans are a wonderfully way to remain casual or spruce up a bit by pairing them with a beautiful chiffon or silk blouse. Sandals or heels work well with this look, so don't shy away from them, just make sure you purchase a pair of Spanx to wear underneath, and you will be set.
Smile
My mother repeatedly told me growing up this next secret. Smile. Adding a genuine smile to your every day wardrobe immediately increases its style factor. After all, by smiling we are telling the world that we are confident, happy and looking to enjoy ourselves being the optimists we are.
A Camisole
Camisoles in all different fabrics, colors and designs are the perfect item to keep in your closet as they provide a quick way to mix and match a variety of outfits. Whether you are wearing them with jeans, skirts, or a suit, they can provide that perfect pop of color to an otherwise classically neutral outfit.
V-Necks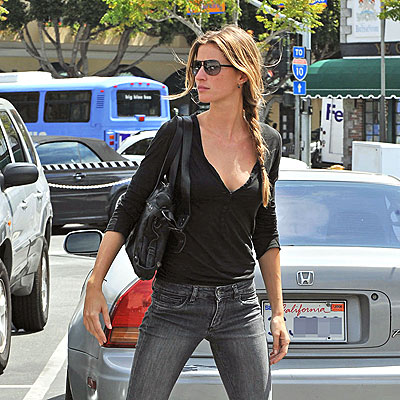 An easy way to elongate your neck is to wear a v-neck blouse, top, wrap dress or T-shirt. Show off your healthy glow with these designs and relax knowing you look wonderful.
Pull It Up
A beautiful coif can be the best accessory and only accessory at times, but every once in awhile, it's okay to pull it up whether it be into a chignon, a messy bun or a ponytail. Letting your face shine and accessorizing instead with magnificent jewelry or fun costume jewelry is something to do when you want a change from your daily do.
Be Comfortable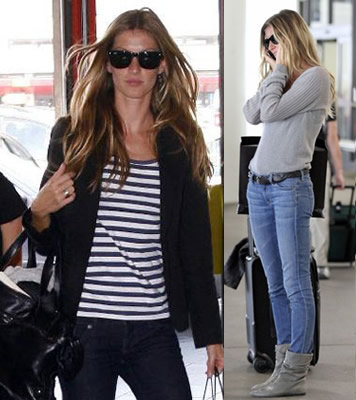 The most important aspect to keep in mind when creating or molding your own style is to be comfortable whether you are wearing a extravagantly beautiful gown or a pair of blue jeans. Gisele demonstrates how someone with the fashion world at her fingertips can also take it down a few notches and still look just as stunning. A pair of jeans, leopard ballet flats, a white T-shirt and scarf – my idea of weekend casual comfort.
Images: (1) Source (2) Source (3) Daily Stab (4) Wholesale Leather Bags (5) Source (6) Just Jared (7) Source (8) Source (9) Source (10) Source (11) Source (12) Source (13) People (14) Source (15) Source (16) Sweet Fuzz(17) Source
Labels: Gisele Bundchen, style rules